Charleston Voice
All the stuff you don't want to know about, but should. And, when you do know, you realize that for the present you are powerless to change it. Are the ETFs, the NY Fed and Rothschild banking syndicate kicking your country's central bank gold reserves down the road, too?
Saturday, May 18, 2013
For the sound money Doubting Thomases
valcambigold.com 
MAY 17, 2013 
1. relative Gold chart - gold divided by its own 200 dma The r-GOLD chart is gold divided by its own 200 dma. It has proven to be a reliable indicator in spotting major bottoms and tops for gold in the past 10 years. Recently the rGold chart bottomed out again and points towards new highs in 2013.
Friday, May 17, 2013
We are not entirely in agreement with Prouty's views, notably his comfort levels with the Dulles brothers whom Prouty makes out to be "anti-communists", but are now recognized as key elements of the CFR and the subversion of our independence and merger with a world government.
PART II
An insider explains how we got to where we are today
Leroy Fletcher Prouty (January 24, 1917 – June 5, 2001) served as Chief of Special Operations for the Joint Chiefs of Staff under President John F. Kennedy. A former colonel in the United States Air Force, he retired from military service to become a banker, and subsequently became a critic of U.S. foreign policy, particularly the covert activities of the Central Intelligence Agency (CIA) about which he had considerable insider knowledge. Prouty, along with Richard Case Nagell, was the inspiration for the character "Mr. X" in Oliver Stone's movie JFK.
For more The Secret Government: videos, click here
Thursday, May 16, 2013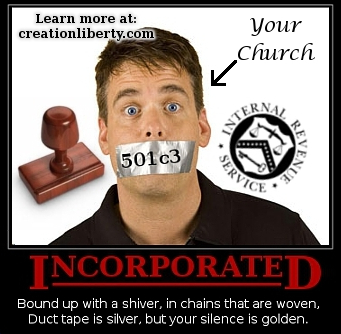 BUT, seemingly not on anyone's radar is that your church and its minister is running under an IRS approved 501c(3) charter which prohibits politicking amongst the flock from the pulpit! That is clearly not separating state from church now is it?! Mark this one down as just another treasonous Constitutional violation by the Emperor at the Altar.
Will these politically-influenced "churches" be excluded from IRS scrutiny while yours is bullied for advocating adherence to God's law over man's? Most likely. Get out from under the IRS approval sham, and preach and worship without hindrance nor man's approval.
---
 

WHITE HOUSE WANTS POSTERS TO PROMOTE GUN CONTROL
By Chuck Baldwin
May 16, 2013

NewsWithViews.com
A group of influential pastors and ministers recently met with Vice President Joe Biden at the White House where the Vice President called on them to use their influence to help pass President Barack Obama's new gun control measures. 
WASHINGTON
,
May 16, 2013
/PRNewswire-USNewswire/ -- 
The following is being released by the Institute for Research: Middle Eastern Policy:
FBI files about the Anti-Defamation League (ADL) have been released under the Freedom of Information Act.  Now online at the
Israel Lobby Archive
, they reveal tactics of ADL operatives working undercover to infiltrate and neutralize groups the ADL deemed subversive or hostile to
Israel
.
Susanne Posel
Occupy Corporatism
May 15, 2013
A Facebook
group
called "Armed With Pride" (AwP) is advertising an armed march on all 50 Capitols for the 4th of July. The corresponding Facebook page is owned by the
Modern American Revolution
(MAR).