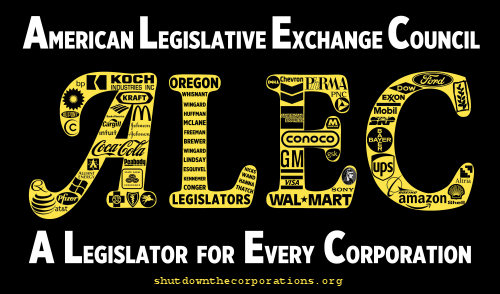 ALEC Corporations
The alphabetical list below contains the names of

for-profit
Learn more about corporations
VOTING to rewrite our laws

corporations that are known to be, or to have been, American Legislative Exchange Council (ALEC) members or supporters.
Published by Charleston Voice, 05.09.12
Not only should ALEC have their IRS tax-exempt charter withdrawn, but likewise for their enemies, "Common cause", for instance, as well as all other "charities..... churches, synagogues & mosques included. Are your state elected reps on the list? See ALEC's tax filing Form 990. See the corporate membership list posted by "Source Watch"., a project of the tax-exempt Center for Media & Democracy which describes its charity as "receiving substantial funds from a government unit." CMD is closely aligned with leftist Amy Goodman's DemocracyNow!  , also a tax-exempt entity.