17 June 2013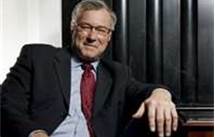 By Greg Hunter's
USAWatchdog.com
Money manager Eric Sprott isn't worried about the heat he's taken in the past few years over the declining price of precious metals.
Sprott contends, "You get a lot of criticism because people think you've lost your marbles . . . our views will be proven to be correct. We intensely analyze the gold and silver market, and we think both will hit new highs at the end of the year or early next year." Bank depositors are at extreme risk. Sprott says, "The shocking thing to me is, obviously, most governments now have put into place legislation or rules in their banking systems for bail-ins . . . . And the fact that all these countries are doing this means . . . this is what's going to happen."
Sprott goes on to say, "That is the ultimate win for precious metals, and God knows what the price would be if it turns some of those depositors into people who need to own gold and silver." Sprott says extreme physical demand for gold and silver is draining supplies. Sprott predicts, "Somebody is going to fail here. All the data I look at says the Western central banks . . . that have been selling gold are running on fumes now . . . so, it's very close at hand." Join Greg Hunter as he goes One-on-One with Eric Sprott, President and CEO of Sprott Asset Management.