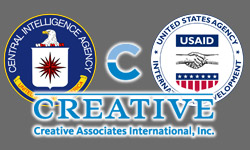 By Wayne Madsen
Posted on
April 8, 2014
(WMR)—The recent disclosure by the Associated Press that the U.S. Agency for International Development (USAID), a notorious nexus for contract fraud within the State Department, contracted out a project to develop a rival to Twitter in order to foment rebellion in Cuba has refocused attention on USAID's long history of acting as a contract vehicle for various CIA covert activities.
The setting up of the Cuban Twitter-like system, called ZunZuneo, was contracted to Creative Associates, Inc. (CAI), which conducted most of its out-of-Cuba operations in Costa Rica. The contract to CAI was awarded as part of the State Department's "Civil Society Support Program," the same program that has been used by the CIA to foment rebellions in Ukraine, Syria, Libya, Egypt, Iran, and other countries.
Some 40,000 ZunZuneo users in Cuba mistakenly believed their messages were private, when, in fact, they were recorded by USAID, which likely turned them over to the National Security Agency (NSA) for analysis and database archival.
CAI was not the only entity awarded USAID Office of Transition Initiatives (OTI) money to help foment dissension and rebellion in Cuba as part of USAID's "civil society program." Other recipients included the International Republican Institute (IRI), a branch of the Republican Party; the National Democratic Institute, a branch of the Democratic Party; the Pan American Development Foundation, on whose board of trustees are found lobbyists for Exxon Mobil, Chevron, Caterpillar, Greenberg Traurig, Royal Caribbean Cruise Lines, Citibank, Unibank of Haiti, Educational Testing Service (ETS),and Occidental Petroleum; Loyola University of Chicago; Center for a Free Cuba (which was caught embezzling $570,000 from USAID in 2008); the neo-conservative non-profit Freedom House; the Christian evangelical group Echo Cuba; Cuba On-Line; the Miami-based Plantados Until Freedom and Democracy in Cuba; and Development Alternatives, Inc. (DAI)/Nathan Group.
ZunZuneo was created just after the December 2009 arrest in Cuba of DAI sub-contractor for USAID Alan Gross who was allegedly setting up satellite equipment and computer networks in Cuba to provide greater Internet access to Cuba's Jewish community. Cuba's Jewish community leaders denied any knowledge of the project or even knowing Gross, who was sentenced by Cuba to 15 years in prison for espionage. Gross's firm, JBDC, was subcontracted to DAI for the "civil society" work in Cuba.
In addition, USAID funding documents for the ZunZuneo (a Cuban slang word for a hummingbird's tweet) and other "civil society" projects state that USAID money went to "miscellaneous foreign contractors" and domestic contractors (undisclosed)" to support the Cuban initiatives. ZunZuneo was a pet project of then-Secretary of State Hillary Clinton, who, according to AP, had her social media chief Suzanne Hall, contact Twitter founder Jack Dorsey to take over ZunZuneo. Dorsey has refused comment on the report.
DAI has a long history in supporting CIA operations.
President Obama's mother, Ann Dunham Sutoro, worked for DAI in Java. DAI was also accused of supporting the April 2002 coup against Venezuelan President Hugo Chavez. In 2005, right-wing Colombian President Alvaro Uribe stunned his audience by announcing that former Venezuelan military officers planned their coup against Chavez from Colombia. USAID and its contractors were heavily involved with anti-Chavez-activities in Colombia at the time of the 2002 coup...
​..
​Read much more>>