Your Tax
Dollars at Work: IPS and National Public Radio
The
Institute for Policy Studies' (IPS)
annual report points out that Institute fellows' commentaries ''are heard regularly over National Public Radio [NPR] and through local radio interviews and broadcasts.'' NPR has a regular nationwide audience of about nine million.
NPR's liberal-left bias in its news reporting has been derived in part from the politics of Frank Mankiewicz, NPR president until he left in April 1983 Mankiewicz has been a fairly regular Washington School faculty member and consultant for IPS.
According to FBI records Mankiewicz was scheduled to meet with Teofilo Acosta, a top—ranking Cuban DGI officer, Orlando Letelier and Kirby Jones at his home in Washington on June 7, 1975.
In 1974 and 1975 Mankiewicz traveled to Cuba three times with IPS fellow
Saul Landau
and Kirk Jones to produce a documentary on Fidel Castro. Like l.andau, Mankiewicz found Castro captivating.
In the preface of his book, With Fidel, co-authored with Jones, Mankiewicz writes: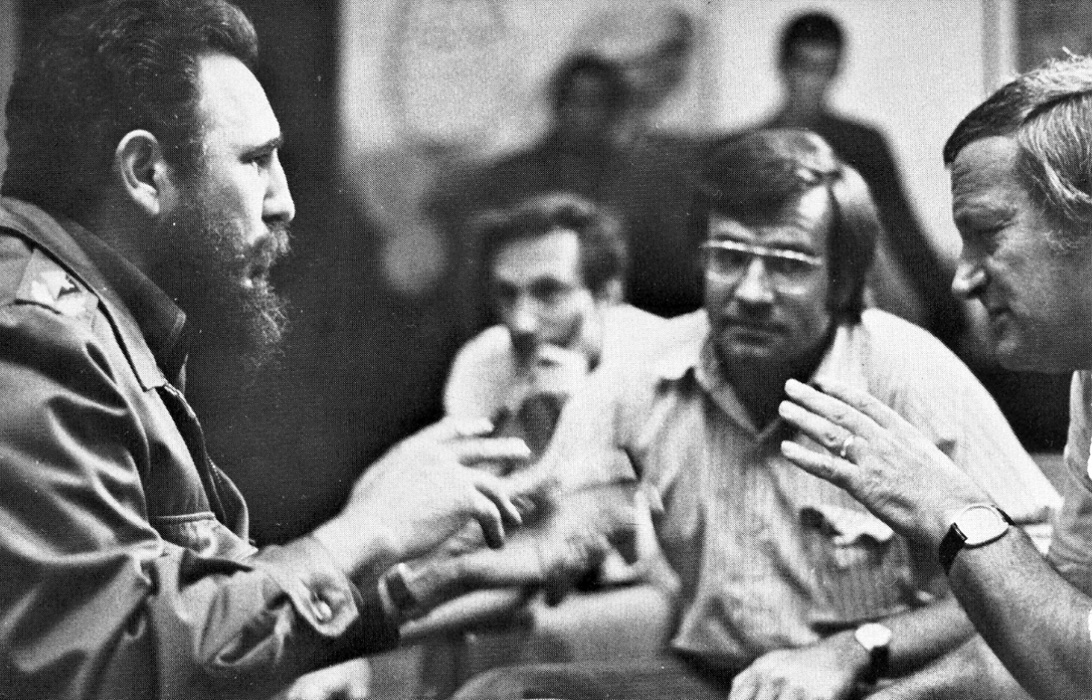 Fidel Castro, Saul Landau, Peace Corps officials Frank Mankiewicz and Kirby Jones, 1974
"Comparing notes later, it seemed clear we had been with one of the most charming and entertaining men either of us had ever met. Whether one agrees with him or not, Castro is personally overpowering. U.S. political writers would call it a simple case of charisma, but it is more than that.
Political leaders often can be and are charismatic in a public sense, but rather normal in more private moments. Such is not the case with Fidel Castro. He remains one of the few truly electric personalities in a world in which his peers seem dull and pedestrian. "
In April 1983 Mankiewicz resigned from NPR amidst charges of gross financial mismanagement— a $7.8 million shortfall, 26 percent of its annual operating budget. But NPR retains its ties with IPS through fellows like Richard Barnet, Ariel Dorfman, Roger Wilkins, Michael Klare, Peter Kornbluh, and Barbara Ehrenreich who offer commentaries or are quoted over NPR. Over the years a number of NPR reporters and employees have also participated in IPS activities.
Jim Angle, editor of ''All Things Considered,'' chaired a workshop, ''Public Opinion and the Media," at a Riverside Church Conference on Central America in October 1983. Angle said he didn't mix his politics with his professional work, but the main topics discussed in his workshop were ''advocacy reporting" and how media activists could use events "like the human rights certification process of El Salvador'' to influence public opinion.
Michele Magar, and assistant producer at NPR, chaired the IPS Washington School's six-week class on foreign reporting in spring 1984—a class that brought in three reporters from the Washington Post and one from the New York Times. The IPS syllabus called for Magar to be joined by coworker Deborah Amos, a news producer at NPR, for the final session. The IPS agenda billed the class as one that would "examine the role of foreign journalism in our perceptions of the world, and in the formation of foreign policy." Topics discussed included the ''Impact of Foreign Reporting: Implications Here and Abroad,'' ''Neutrality vs. Advocacy," "The Politics of Foreign Reporting." "Falling out of Favor with the U.S. Embassy: What Are the Costs?''
On U.S. intervention in Grenada, NPR's polls found that the American public disapproved of our action by a margin of about three to two. This conflicted with all respected public opinion polls, which found no less than 65 percent of the public in favor.
After the release of the bipartisan Kissinger Commission Report on Central America in January 1984, NPR got on the bandwagon to discredit its findings. The commission specifically warned of the increasing Soviet and Cuban involvement in the Western Hemisphere, the escalating conflict in Nicaragua and El Salvador, and the general instability in Central America should the United States sit back and do nothing. The week of February 20, 1984—the same week the report was released and distributed to Congress the "Morning Edition" news program promoted a new IPS publication, Changing Course: Blueprint for Peace in Central America and the Caribbean. On February 23 NPR aired a lengthy interview with Richard Barnet, who criticized the Kissinger Commission findings while promoting his institute's alternative study.
NPR sympathy for the Marxist guerrillas in El Salvador continued despite the enthusiasm for democracy demonstrated by the large voter turnouts in the 1982 and 1984 Salvadoran elections. NPR prefers to despair by focusing on ''right-wing death squads.'' Two days after the Salvadoran election of March 1984, the news anchor for ''Morning Edition,'' Bob Edwards, said that ''it is likely that the elections will make little difference to the future of El Salvador."
The numerous connections with IPS aside, NPR's failure to uphold rigorous standards of objectivity in news coverage and to comply with the FCC's guidelines on fairness amid equal access is not in keeping with its responsibility to the American public, particularly since the American taxpayers foot 95 percent of NPR's budget, which is over $25 million annually.
Pages 133-135
Covert Cadre
, S. Steven Powell