Saturday, June 29, 2013 at 7:45AM
Contributed by Chriss Street:
CEO of the American Exceptionalism Institute and host of the Agenda 21 Radio Show on the Salem Broadcasting Network. He lives in Newport Beach, CA.
The Internal Revenue Service (IRS) scandal heated up today when Greg Roseman,
Washington D.C. Metro Area
Contracting Officer and Deputy Director of the IRS, invoked his constitutional Fifth Amendment right against self-incrimination to avoid answering questions in front of the House Committee on Oversight and Government Reform to determine if he fraudulently steered $500 million in IRS computer contracts to a $250,000 a year company fronting for IBM.
Committee Chairman Darrell Issa released a report today detailing an abusive contracting relationship between the IRS and Strong Castle, Inc. The report found a personal relationship between the IRS official and Braulio Castillo, owner of Strong Castle/Signet Computers, which facilitated the company capturing 25% of the IRS's $2 billion in annual information technology spending over a six month period.
The House report also found that Strong Castle gained an advantage over competitors by fraudulent obtaining designation as a "
Historically Underutilized Business Zones
" (HUBZone) with the Small Business Administration. HubZones were enacted as part of President Clinton's
Small Business Reauthorization Act of 1997
to encourage government contracting with economically disadvantaged communities. HUBZone-certified companies receive a 10% "contract preference," but their principal office must be within the HubZone and at least 35% of employees must reside in the HUBZone.
The Strong Castle website claims the company is a Service-Disabled, Veteran-Owned Small Business (SDVOSB) and winner of the Veteran Affairs Award at 12th Annual Leesburg, Virginia Business Awards. Despite claiming to be in an Economically Underutilized Business Zone, Leesburg, Virginia was
rated by Fortune Magazine
as the number four Best Small Town to Live in America. In 2011, annual median family income was $128,595, median home price was $279,250 and unemployment was 4.1%. The City offers "plenty of good jobs in defense contracting, consulting, and technology."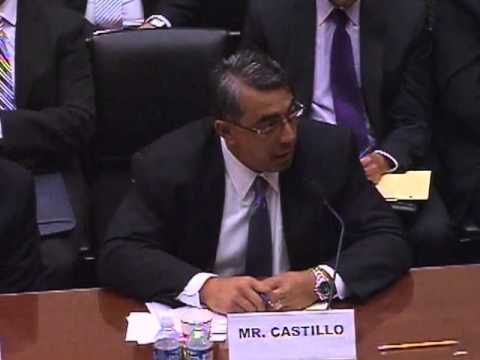 In January 2012, Braulio Castillo purchased Signet Computers, released all the former employees and renamed the company Strong Castle, Inc. Over the next six months, the company won IRS contracts worth about $500 million. Although the $50 million preference as a qualified HubZone gave the company a big competitive advantage, investigators discovered that Contracting Officer Greg Roseman, failed to disclose he and Castillo had 350 text messages that included "
grossly inappropriate
" remarks and "
underscore a problematically close relationship
," according to investigators.
More>>
Watch related: 'Shame on you,' disabled vet Duckworth grills IRS contractor